Be ready before it happens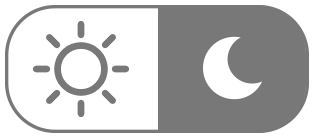 Requires macOS 10.12 or higher. Trial version contains sample data only.
Capture all your home details with Home Inventory's simple and elegant interface.
Blue Plum Home Inventory will help you make and maintain a home inventory for any property you own. It lets you organize your belongings in collections, rooms, locations and/or assign one or more tags to each one. It helps you add photos, videos, receipts, manuals, contracts and any other document related to your items.
Why Keep a Home Inventory? Severe weather is on the rise across the country, making it more critical than ever to ensure that your property and contents are properly insured. If your home is damaged or destroyed, it's important that it has been insured for its accurate replacement value. A home inventory serves multiple purposes. It provides documentation of your belongings for an insurance company if your home is burglarized or damaged; it helps you keep track of items that require upkeep or repair; and (as a bonus) it can help you declutter and maintain a lean home.
Direct access to your iPhone or iPad images
If you are using Apple's iCloudPhotos, you can access all of your iPhone and iPad images directly from the Mac application without having to use a separate iOS App.
iOS helper app
A free iOS app that lets you easily take your inventory photos. Take your inventory photos and transfer them to the main Mac application once your iPhone or iPad is on the same WiFi network again. For more information about the 'Home Inventory Easy Entry' app click here.
Continuity Camera
Use your iPhone, iPad, or iPod touch to scan a document or take a picture of something nearby and transfer it instantly to the home inventory application. (Continuity Camera feature requires MacOS Mojave and iOS devices running iOS 12.).

Keep home inventory for multiple properties.

Display locations of your properties on Apple maps (available only if purchased through Apple Mac App Store).

Tag your inventory items with multiple, colour-coded custom tags.

Assign inventory items to your own custom collections.

Assign and store multiple photos and other documents to your items. Image editing.

Quick and easy data entry. Log your items' estimated values with pre-populated fields.

Suggest annual depreciation rates for your inventory items.

Display your inventory's value history in different charts.

Multiple report types. Display, save as PDF or print your reports.

Maintain a record history for each item. Assign monetary value to each journal entry.

Schedule recurring or one-time events for each item. Add them to your Mac's notifications system.

Assign insurance policies and claims to your items, generate reports, check for soon to expire policies.

Backup all your inventory information and files to a single compressed file. Keep your backup files to your cloud storage of choice.

Use your iPhone, iPad, or iPod touch to scan a document or take a picture of something nearby and transfer it instantly to the home inventory application.

Selling a house, going on a trip, ... Create multiple packing lists with weight tracking, print checkmark reports, ...

Do you remember which one of your friends borrowed that tool you are looking for? Track loaned items, set 'return by' dates, create reports.

Use our estate features for a consolidated view of all the important details about your estate. Assign heirs to your inventory items.

Assign one or more images, receipts or other documents to each of your properties. Maintain insurance and cliams records for each property as well.

Dashboard - overview of your inventory value history, important events, warranty expiration
iOS App - take inventory photos and transfer them to Mac application, or access all your iOS photos directly from the Mac application if you are using iCloudPhosts.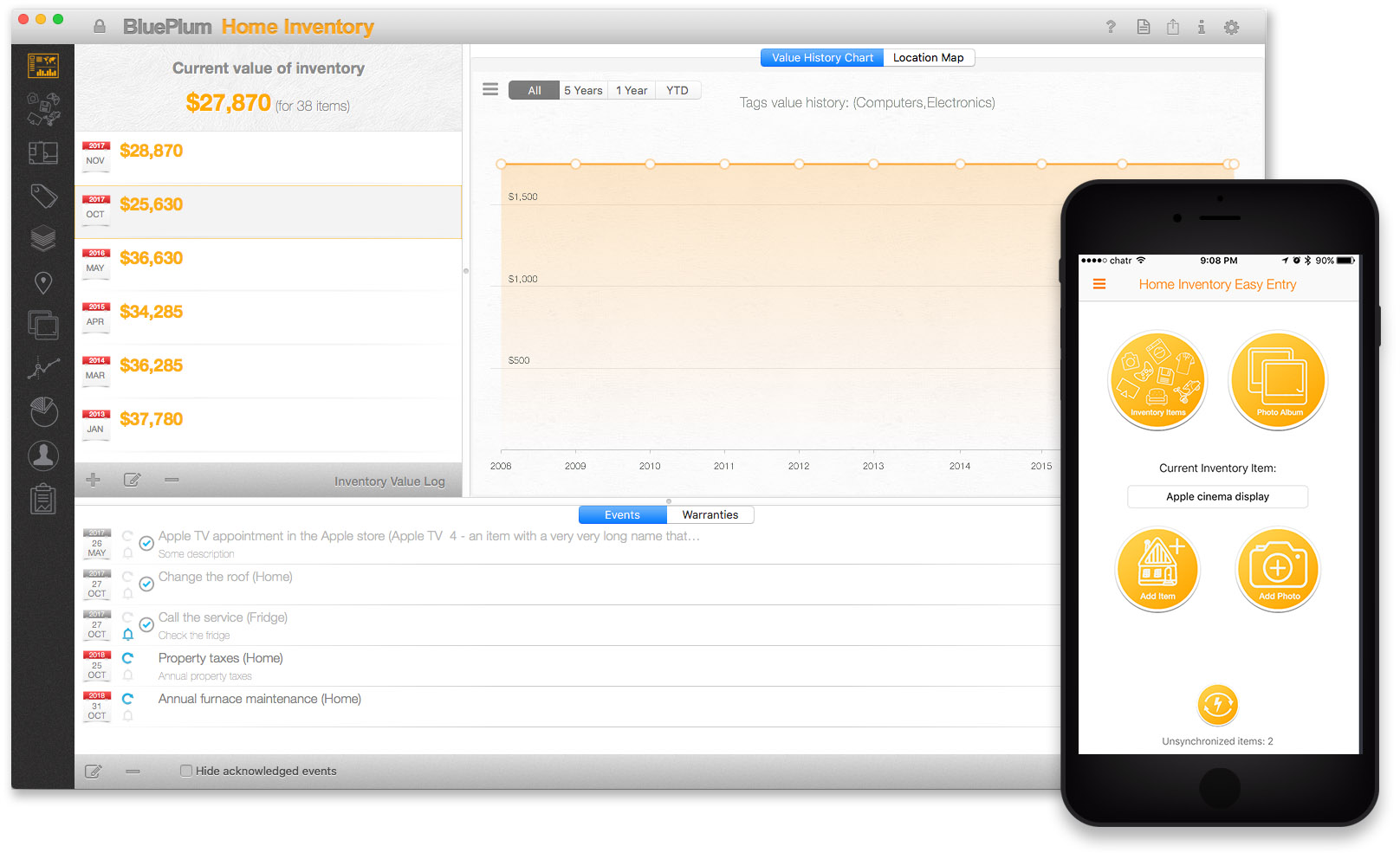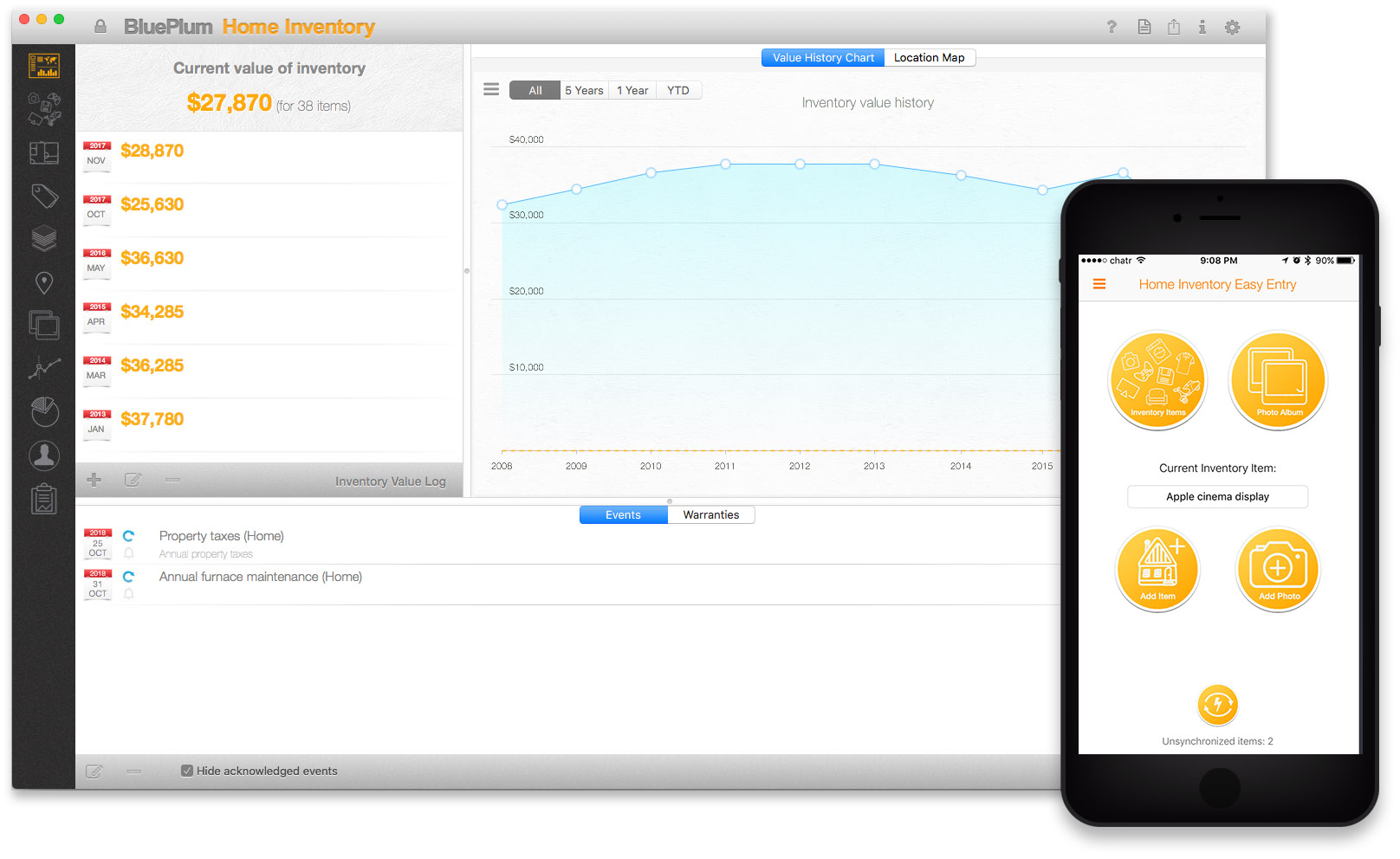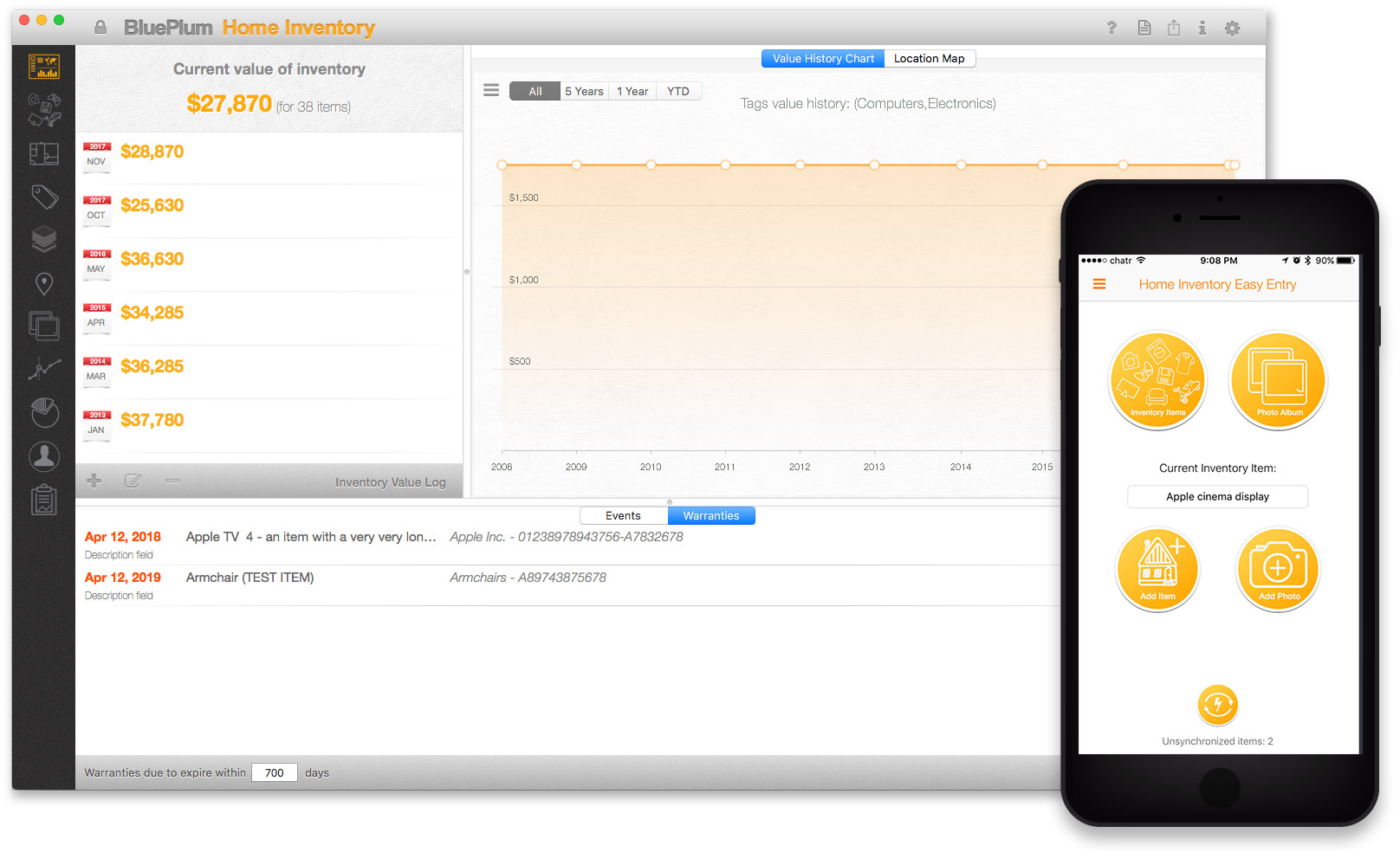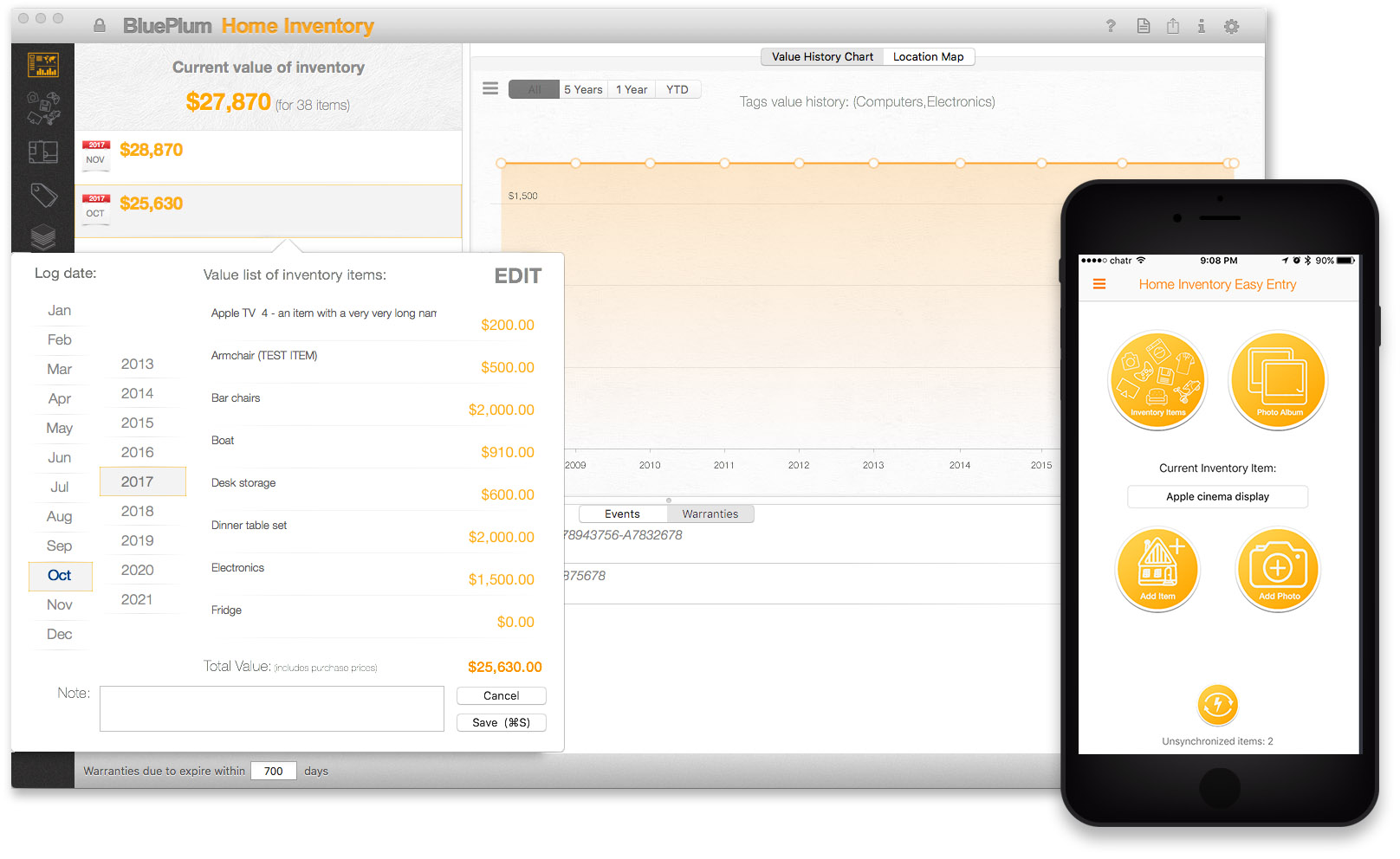 Item Details - Simple data entry.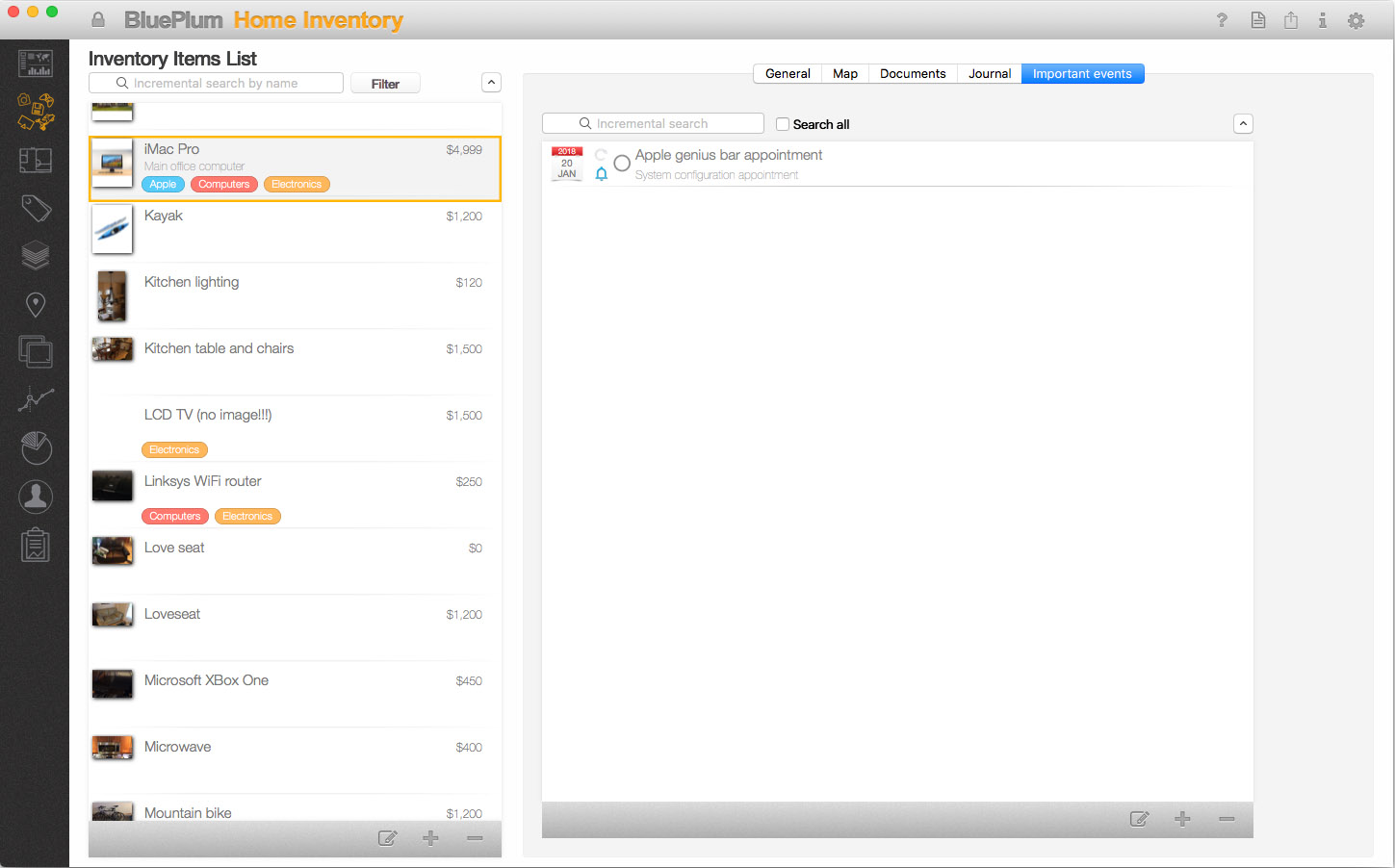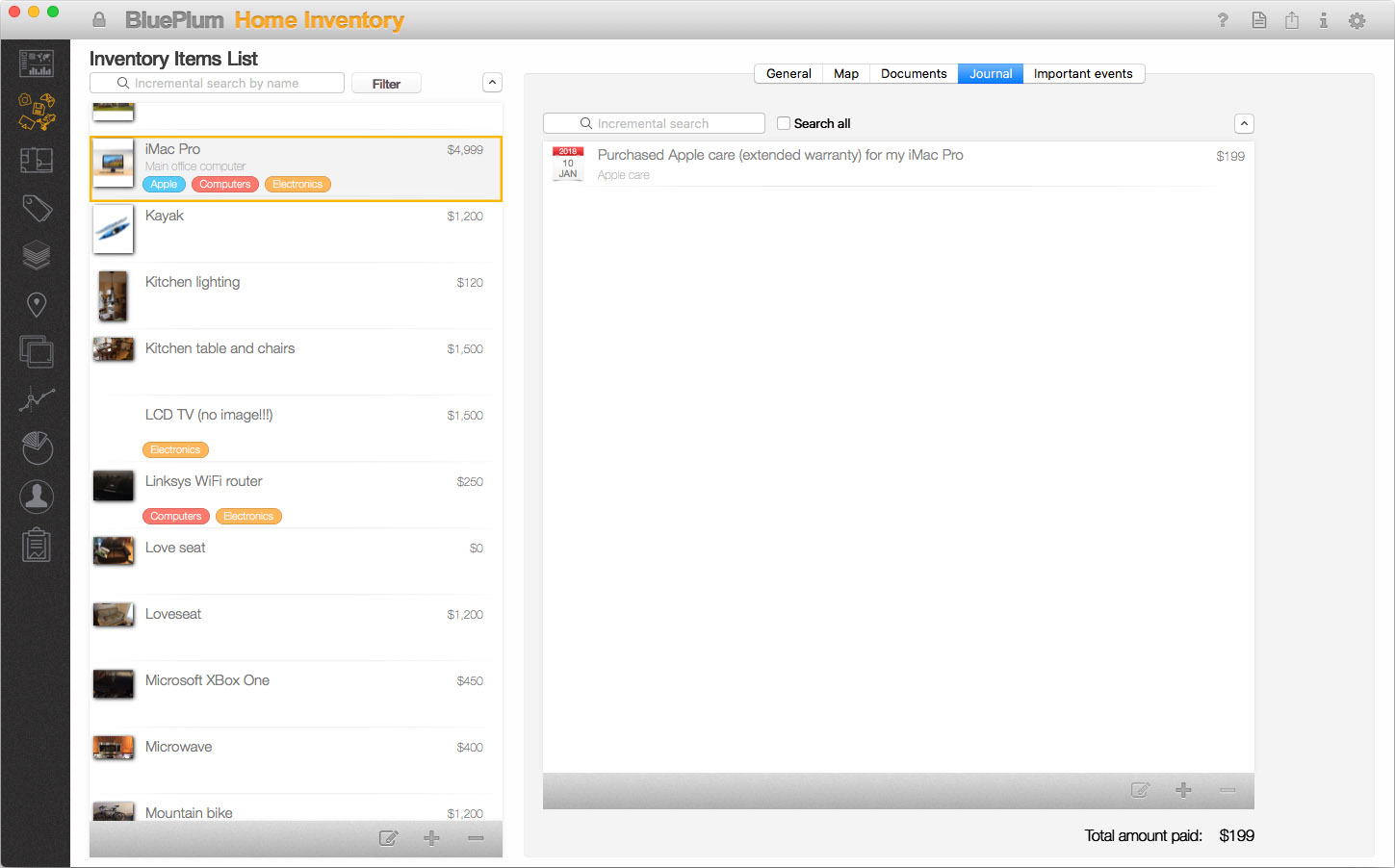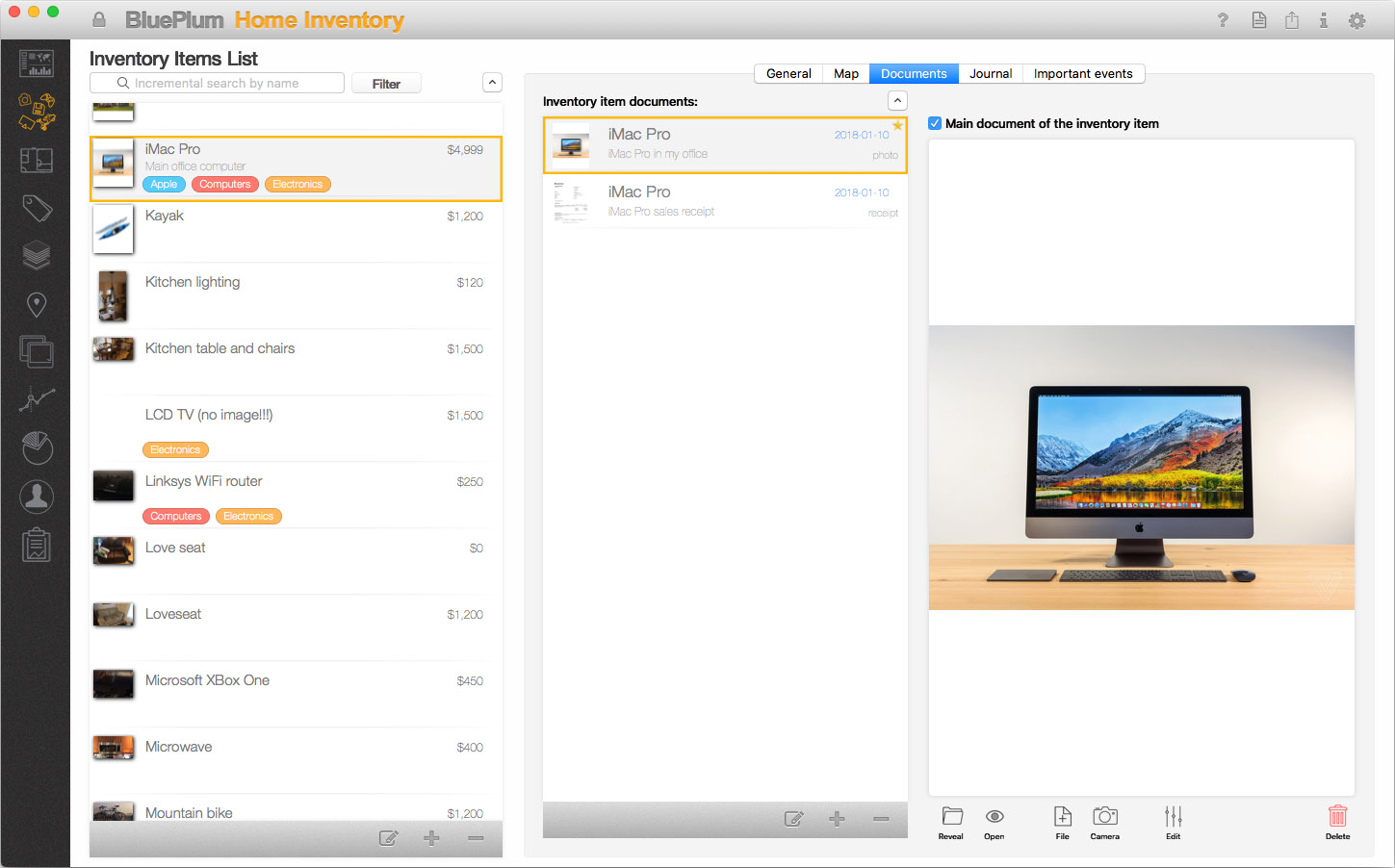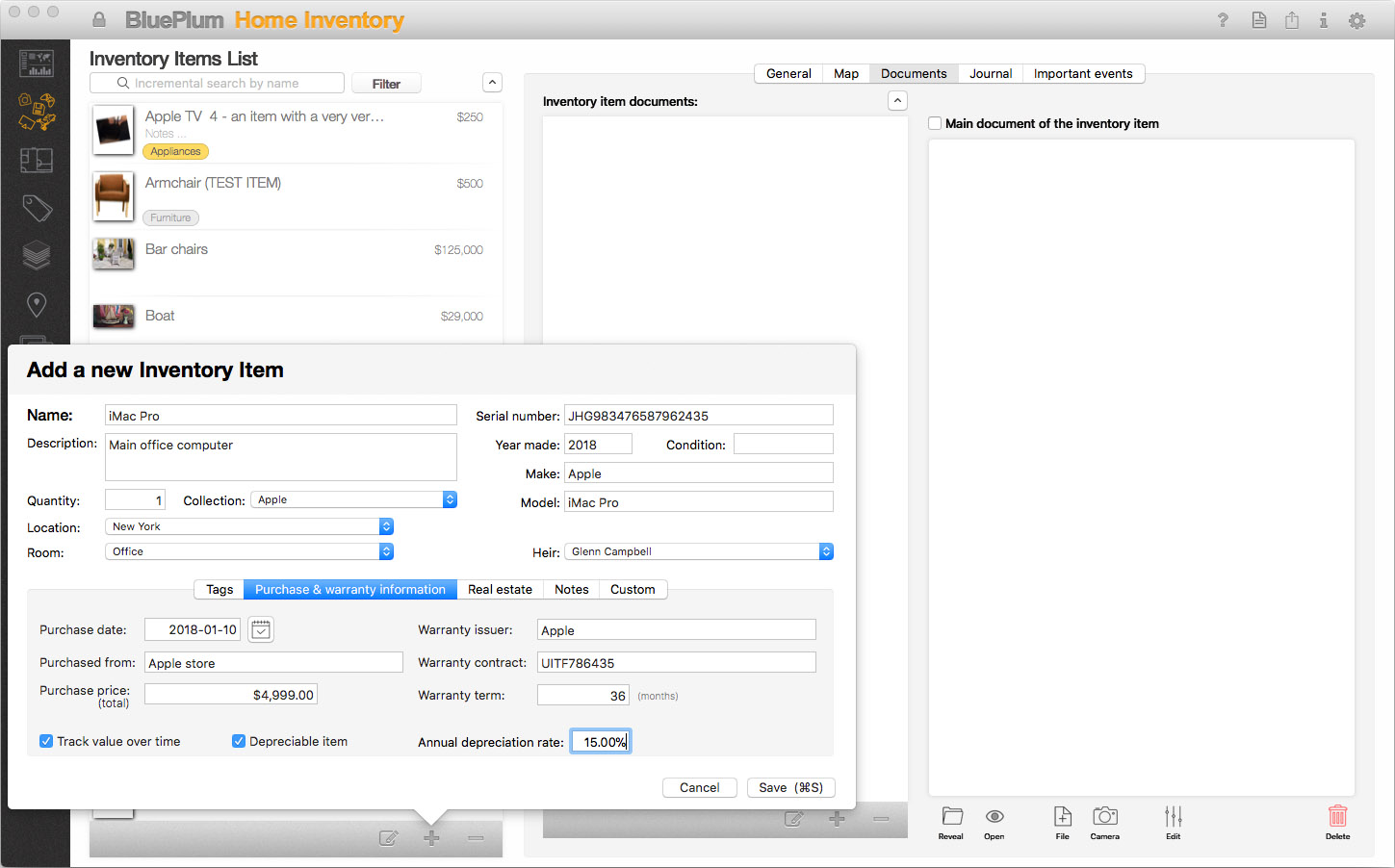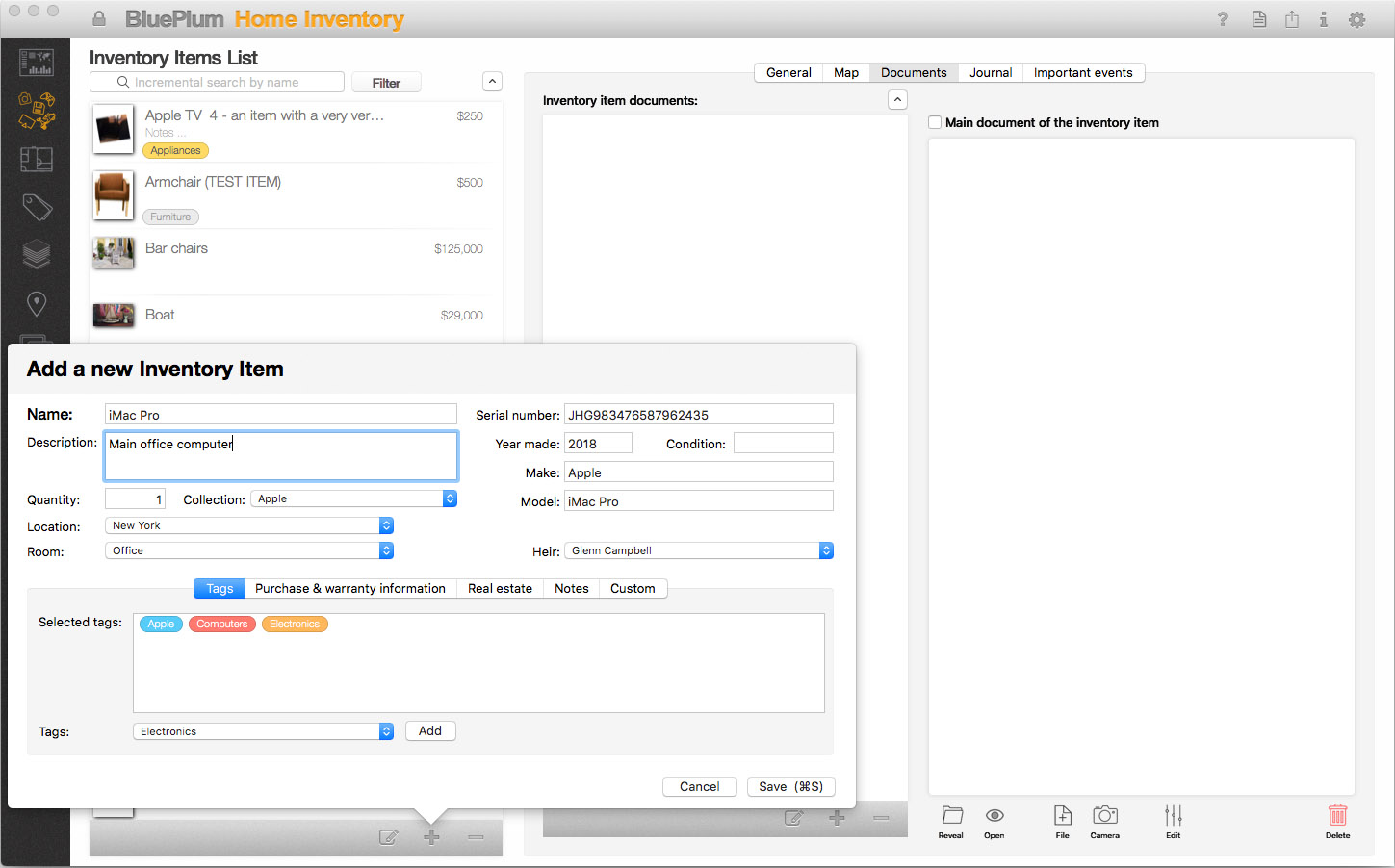 Photo Album - Several ways to display and search for your photos and documents.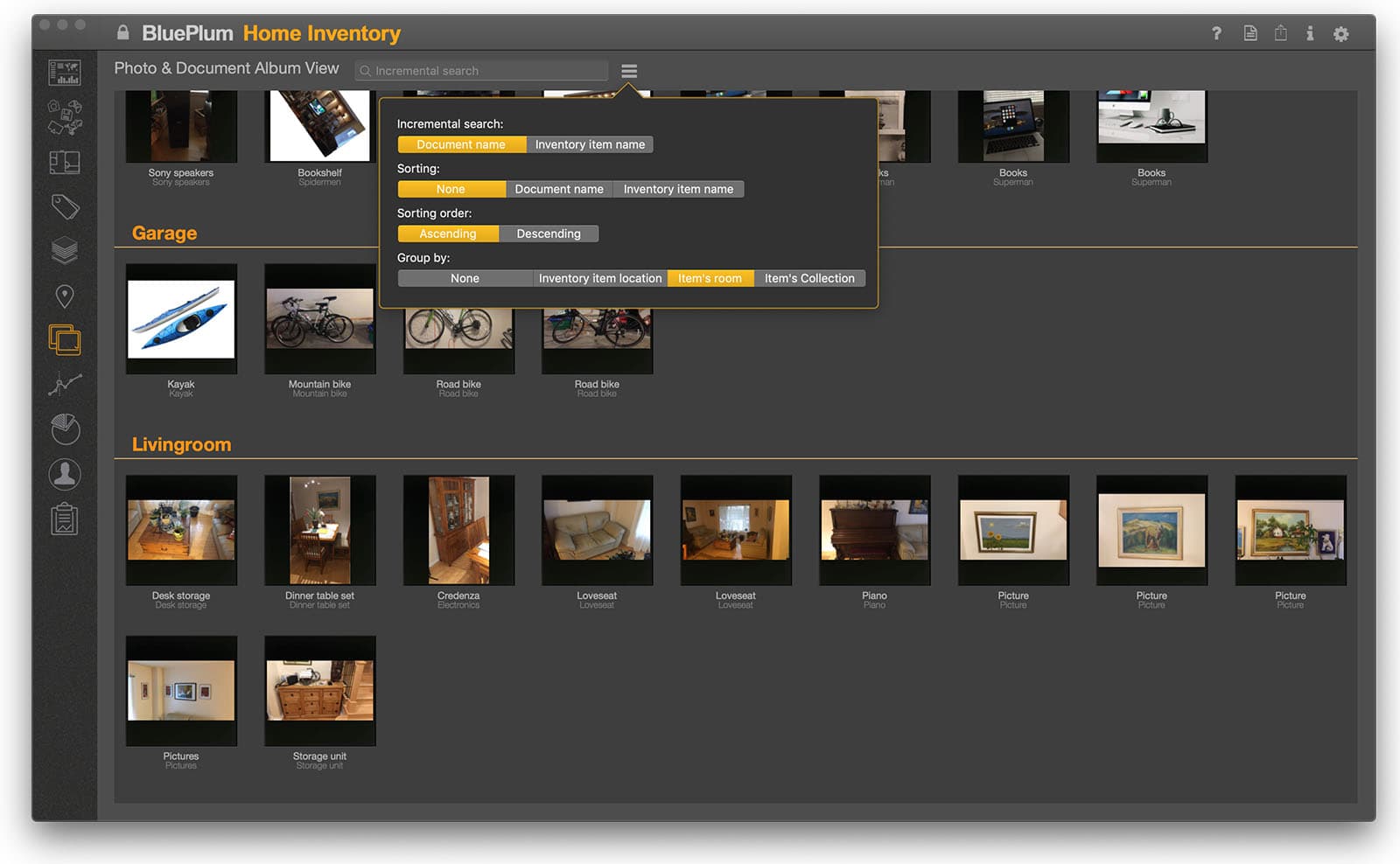 Photo/Document Browser - Find and select inventory photos/documents from multiple sources. iPhoto, Photos, File System, Camera, Photo Booth.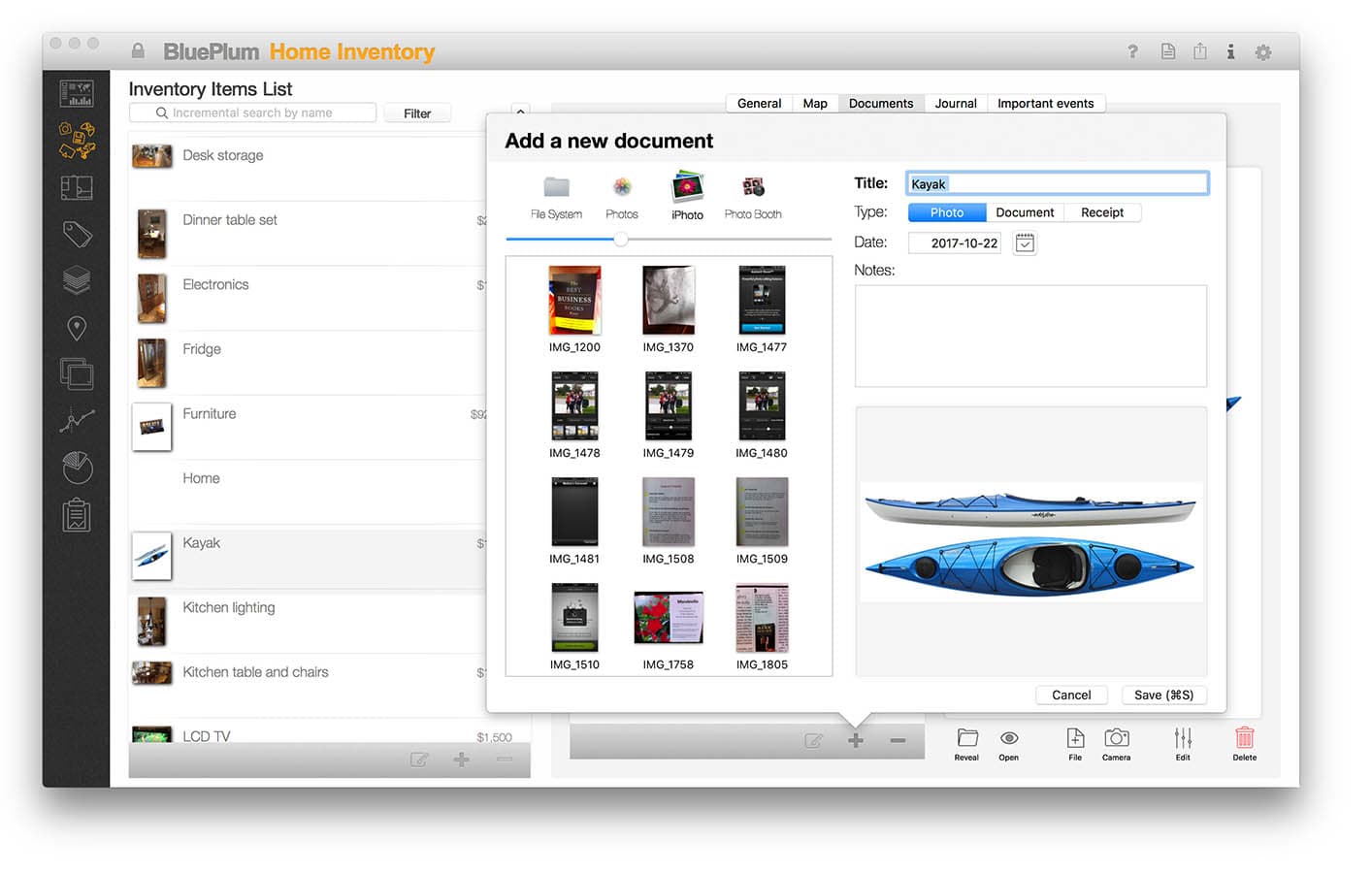 Photo Editor - Adjust your photos: crop, rotate, color adjustments, ...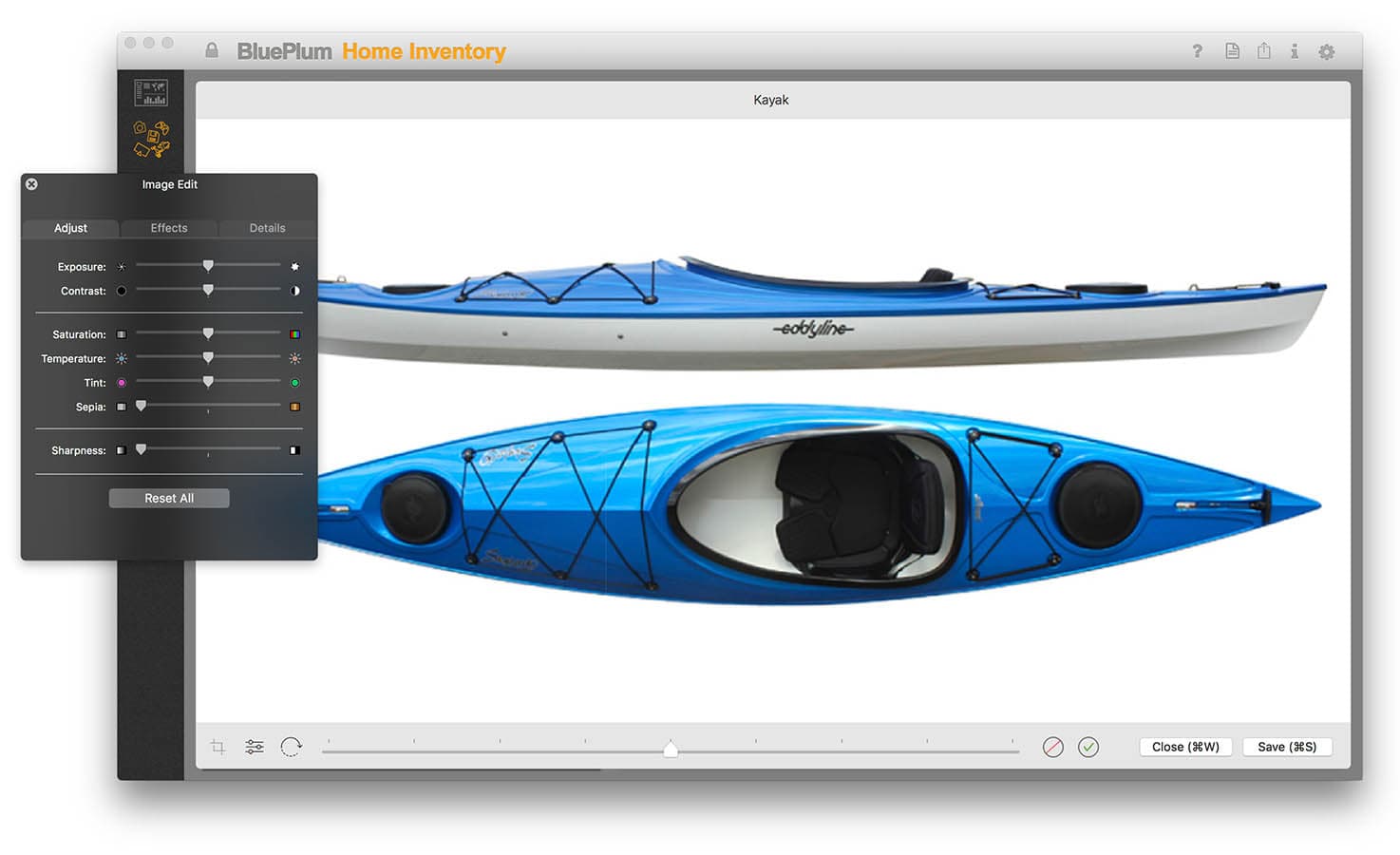 Packing Lists - Moving, going on a trip, camping - manage multiple packing lists for every occasion.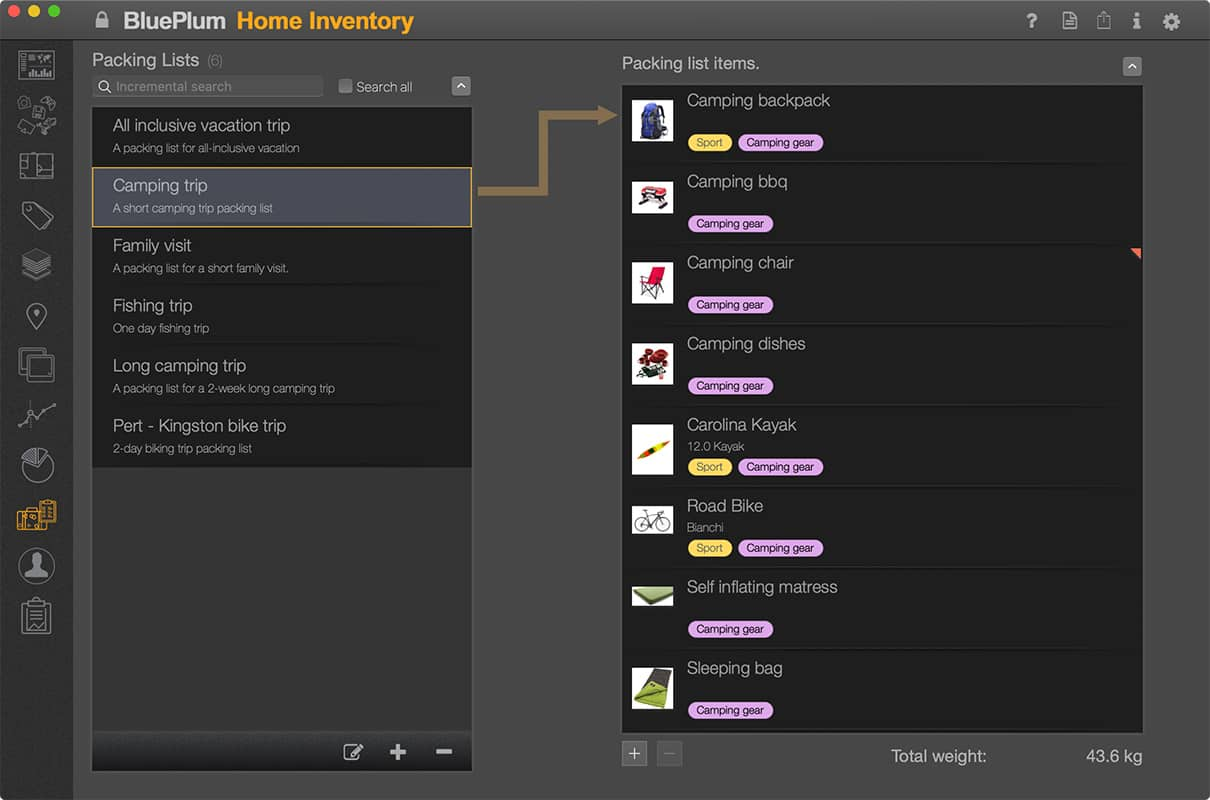 Loaned items - Track items you loaned to your contacts, set 'return by' dates, create reports ...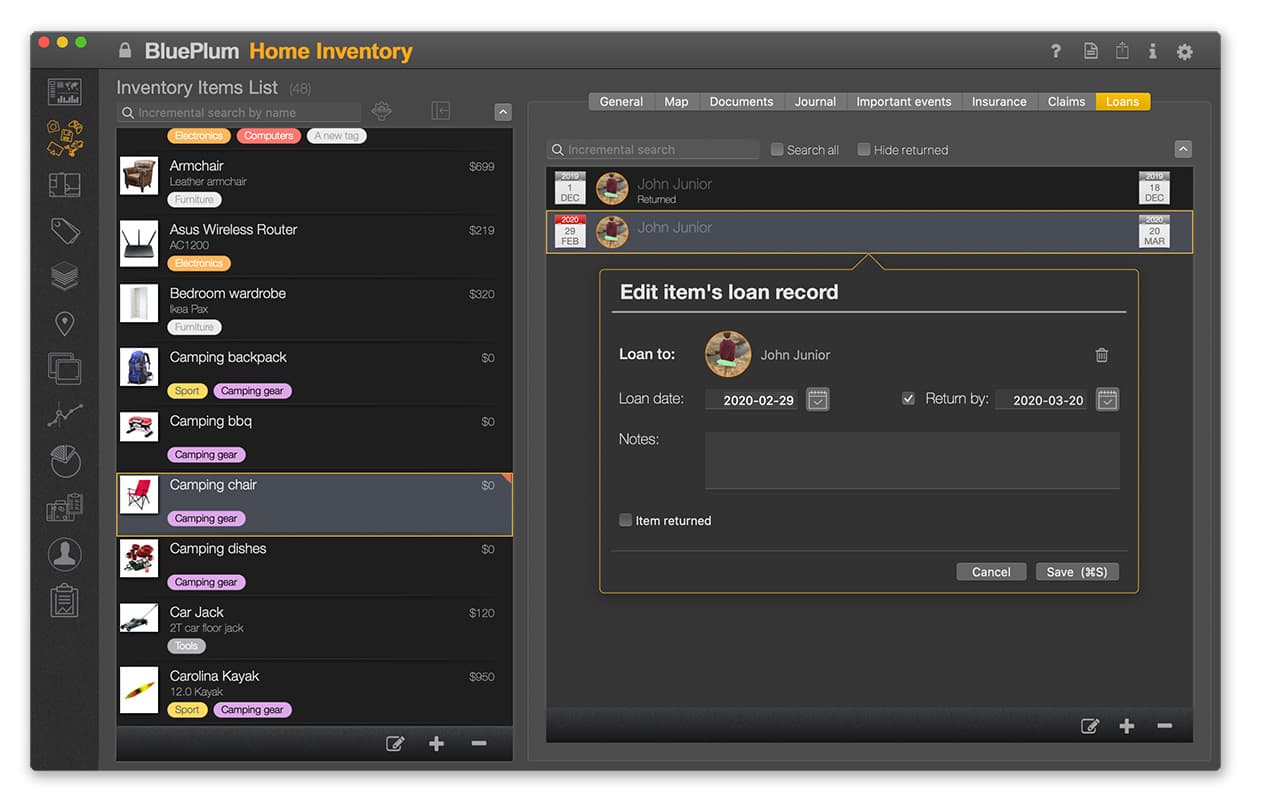 Reports - Multiple customizable report types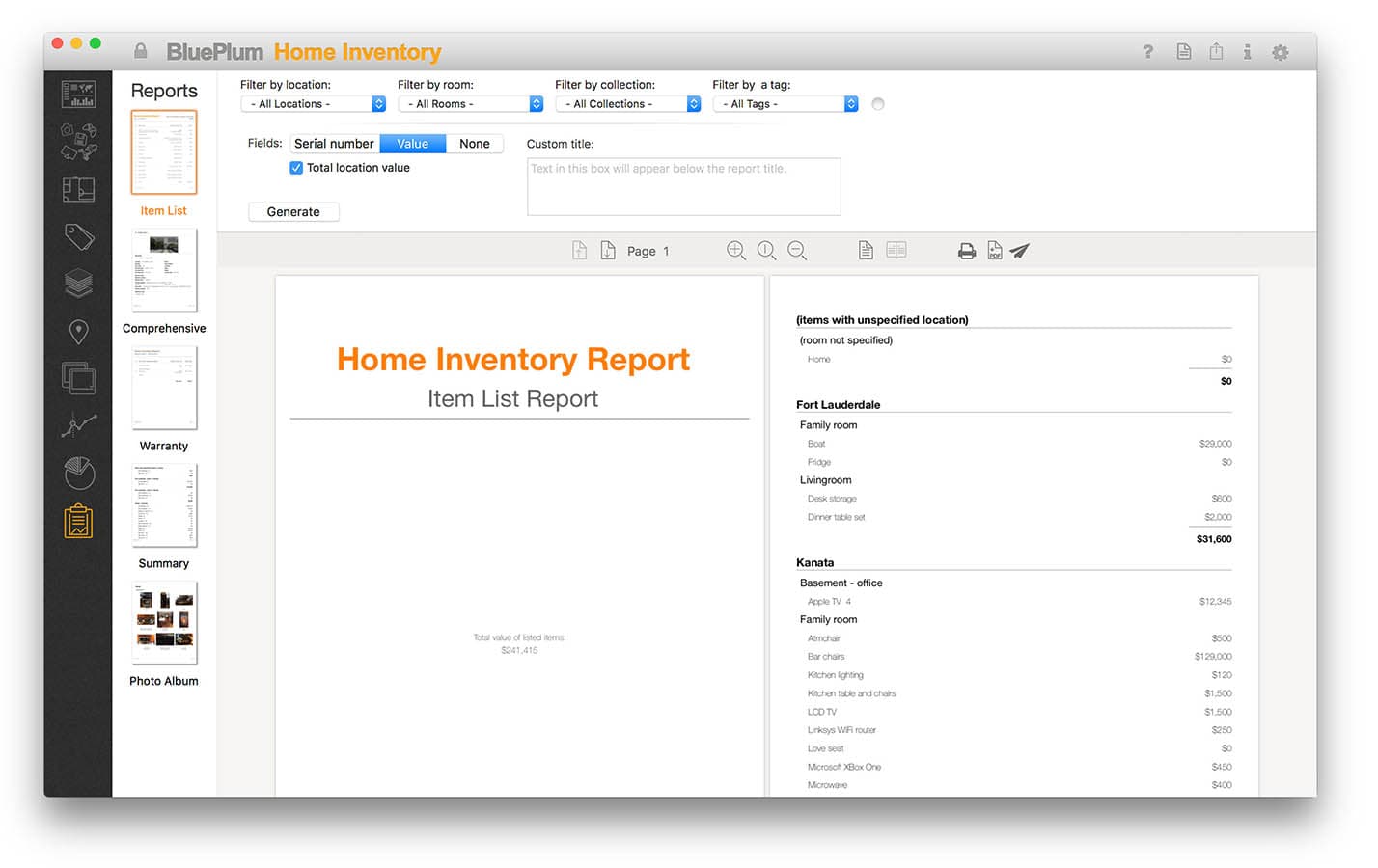 Inventory Value Distribution - See inventory values distribution, powerful item filtering.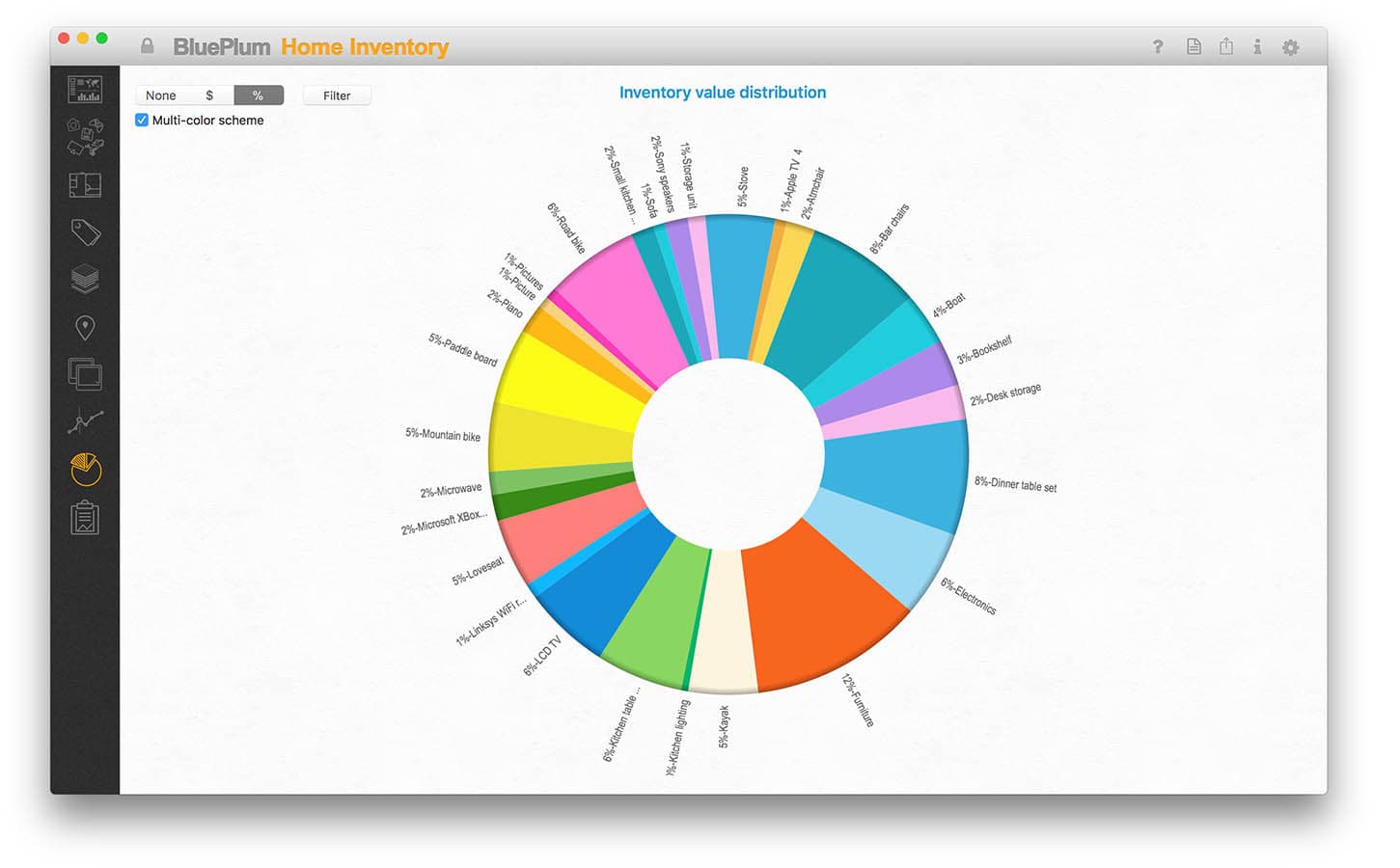 Track Inventory Value - Track inventory value changes over time. Automatic item depreciation.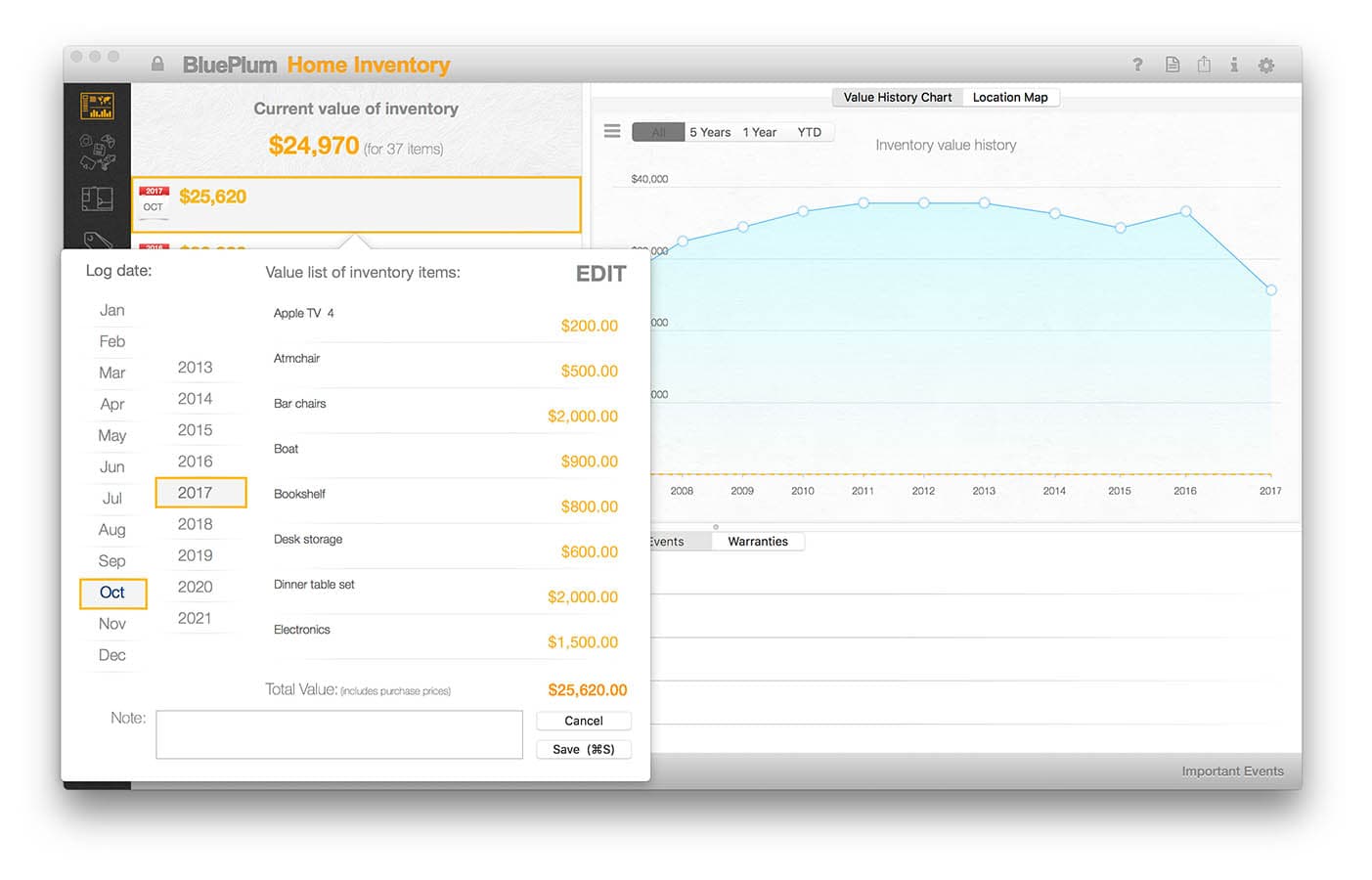 Real Estate - Manage your properties photos, documents, insurance, ...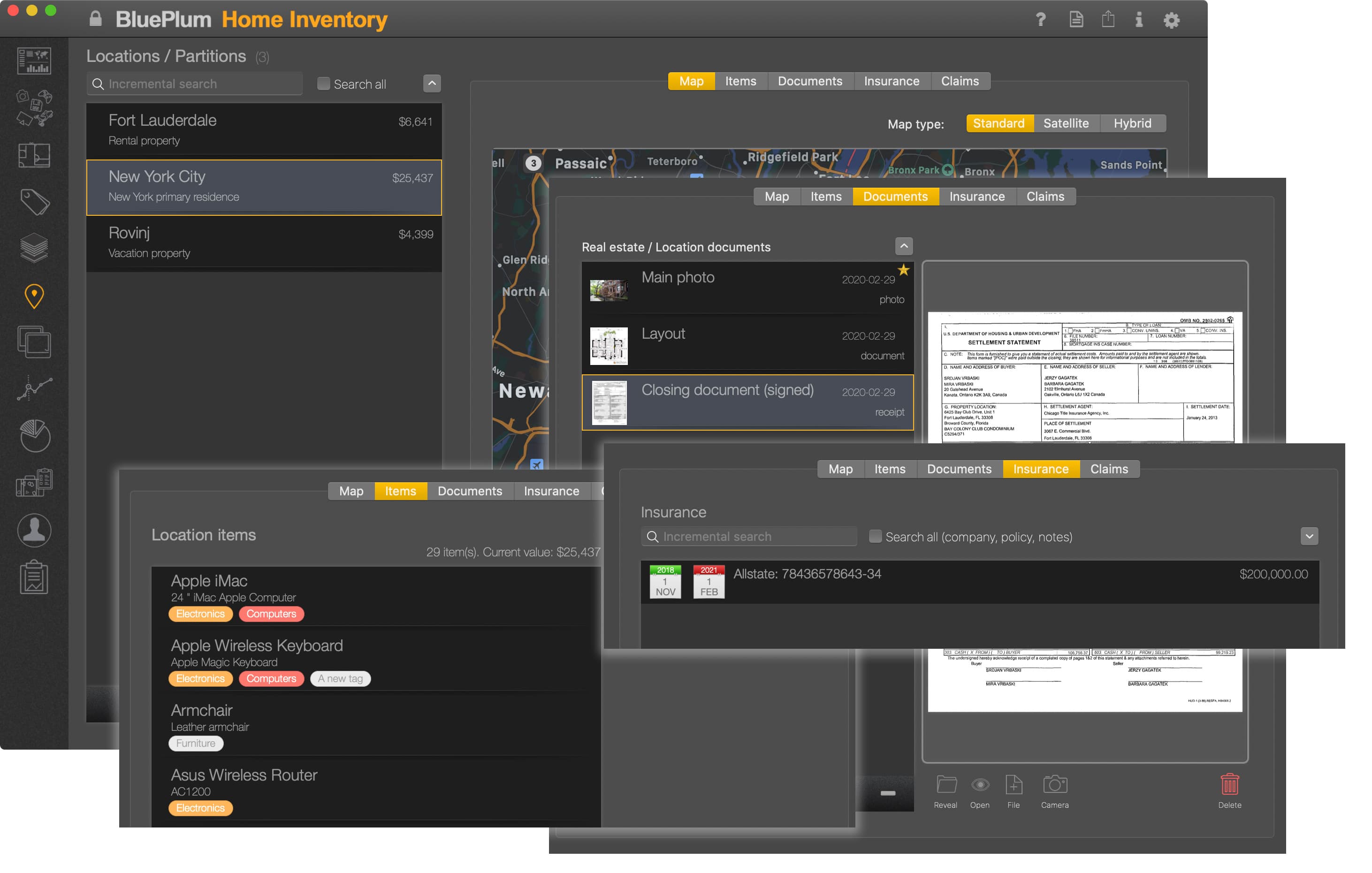 Highly Customizable Charts - Display chronological value charts by items, tags, collections, locations, ...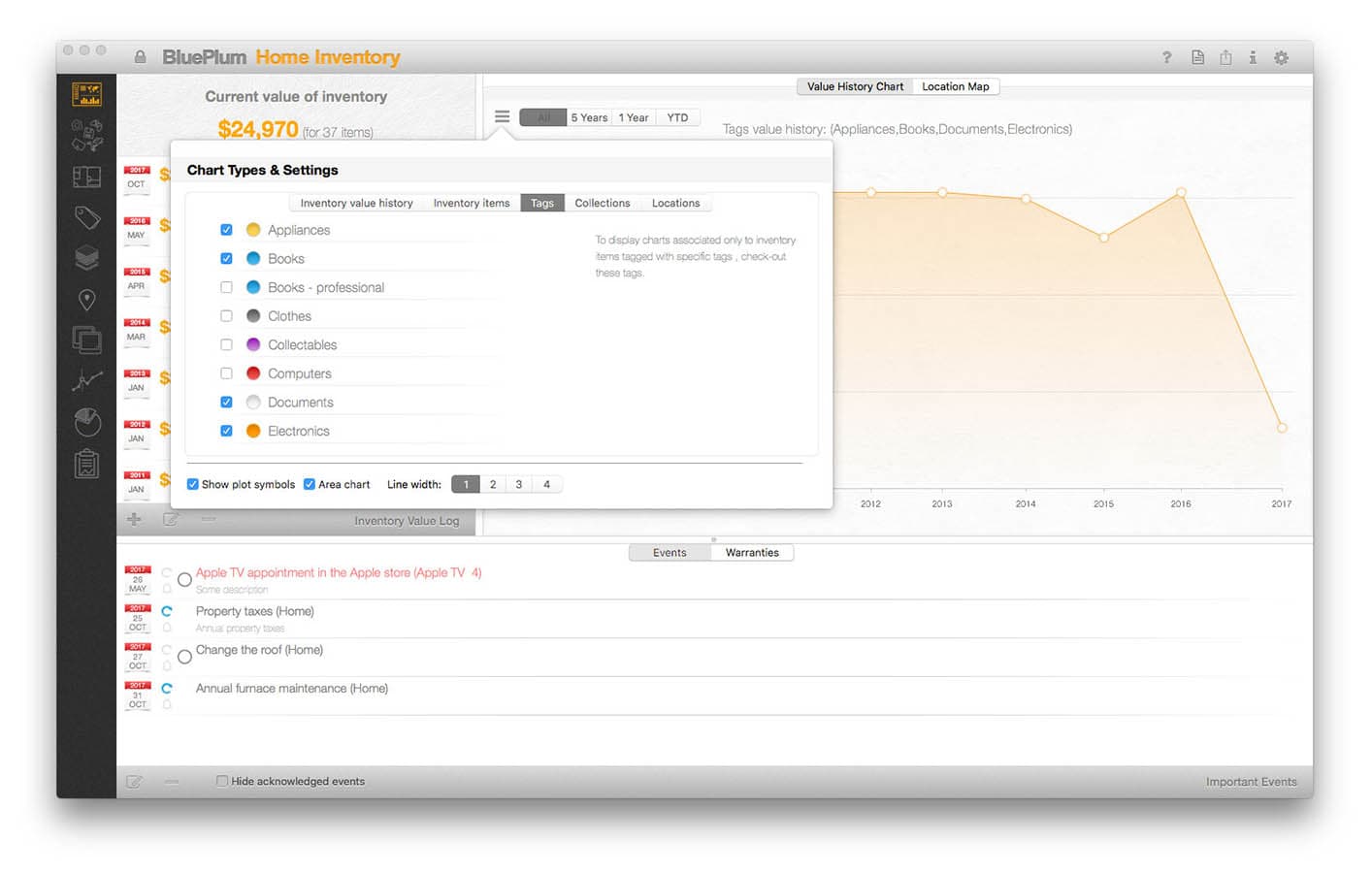 Backup/Restore, Events, Journals, Warranties and more, ... We listen to your suggestions. New features are being added regularly.